After the Rain (as Aisling Byrne)
Buy a copy at Amazon UK.
Synopsis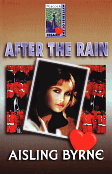 Alison Dean had loved the Army - and loved handsome Martin, a fellow soldier with blue eyes, fair hair and a beautiful black sports car. But then her life is shattered. Hating Army life and deeply depressed, Martin drives his Porsche off the road, killing himself and crippling Alison. Her career over, Alison is working in her cousin's bookshop when she meets Richard, another fair, handsome man with a disturbing resemblance to Martin - he even has the same black Porsche. But can she trust Richard? Why is he keeping secrets from her? Can the Army be to blame once again?