Dunhampstead is so small that it can hardly even be called a hamlet. It lies beside the ancient salt way, which runs from Droitwich Spa, 'the salt town' and led Saxon and Roman travellers burdened with salt on into the great forest of Feckenham and beyond towards London.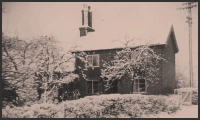 Our pretty cottage stood by a canal and had been bought by my grandfather in the Twenties for £100. He had come to work on the Galtons' estate as a railway crossing keeper. The Galtons were an aristocratic family, numbering amongst their relations Sir Francis Galton, the well-known eugenicist. They lived in Hadzor House, a stately home two miles from our home.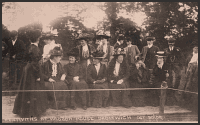 My grandmother was a tailoress, who worked for the Galton ladies. My mother remembers being taken there as a child, in a carriage with two coachmen attending. Her 'job' was to read books to the daughter of the house, Miss Emily. Click the picture of my grandmother and the Galtons, taken in 1909, to enlarge it.