Sands of Time (as Liberty Brett)
Buy a copy at Amazon UK.
Synopsis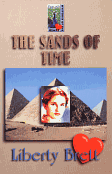 Pippa was to join her father at his archaeological dig in Egypt. As she waited at Cairo Airport, she felt disappointed that it was her father and not Mike who was coming to meet her. She had had a romance with Mike in London six months previously and she was so looking forward to seeing him again. Then Rik Fenton arrived, explaining that both her father and Mike were too busy to come. Pippa and Rik are soon drawn into a dangerous adventure. Her instincts tell her to trust Rik, but how could she betray the man she loved?