Two for a Lie (the dream novel)
Read the reviews or buy a signed copy at Amazon UK.
Synopsis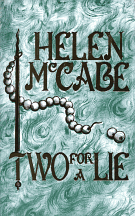 Mary Willcocks, aged eighteen, is returning home across the moor when she is waylaid and almost raped by the brutal Humphrey Moon, the wild young son of her former master. She is saved by Jem Farr, the half-French ward of the local squire. And Mary's love remains his throughout the many tragedies she has to face before her dreams come true. Passion, intrigue, murder and revenge are the ingredients of this rich adventure set in the early 1800s. How Mary, the servant was transformed into the exotic Princess Caraboo has puzzled scholars and her admirers for two hundred years. At last her secrets are revealed in Two for a Lie, which is itself based on a dream as rich as Mary's own.

Reviews
'More than a novel. Helen McCabe is a master story-teller with the unique gift of making history come alive...' Shahrukh Husain, author.

'The book is a dream to read - it is more historically and geographically factual than the Hollywood film "Princess Caraboo" starring Phoebe Cates, and just as entertaining.' Nancy Hammonds, Evening Herald, 10/6/95.

'Its message is one of hope...' Tara Holmes, The Universe, 4/6/95

'Persistence and outstanding promotional ability paid off and the first edition sold out.' Ann Boston, Country Living, September 1995.

'Heading rapidly for the best-seller lists...' Lanzarote Holiday Gazette, September 1995.

'Upon the scaffolding of Mary Willcocks's "faction", Helen McCabe has constructed an edifice of "faction" of her own. She records, as in a trance...the circumstances which, 178 years ago, possessed a humble young woman to perpetrate so brave a deception.' The Contemporary Review, September 1995.

'Once you are reading it, it is hard to put it down. The story romps along at a fair old pace. The plotting is effective and ...it holds you right up to the climax.' Nic Paton, Disability Now, September 1995.

'An enthralling novel.' W H Smith, Press Release, July 1995.

'Mrs McCabe's book is a delight. She has a fine story-telling style that brings her characters to life. Though based on a dream, the setting appears historically factual. Two for a Lie is very entertaining.' The Plymouth Herald, 6/5/95.

'A strange and wondrous tale which would call for superhuman suspension of disbelief if it were not based on historical fact...Who said fact is stranger than fiction. This tale of the Princess Caraboo sets the seal on it.' The Good Book Guide, August 1995.

'An epic saga blending historical fact, fiction and fantasy - a stunning read. I couldn't put it down.' Sue Sallis, author.